Hot Stuff Stoves
are excited to announce that a new range of stoves will be available soon!
Please check back soon for details, prices and a new online shop!
Take a look below at the the products we have to offer and contact us if there's anything you'd like to know more about!
FUEL
Check here for prices and options
F
Welcome to Hot Stuff Fuel!
Our fuel is supplied by the Northwest's only HETAS & Grown in Britain accredited firewood producer.
Woodsure, accredited by HETAS, independently audit our suppliers, how they operate, the processes they use and more importantly the final product they produce. The logs are tested and checked for size and moisture content. HETAS are an independent body and also provide specialist skills and training to log burner stove installers and chimney sweeps to ensure they fit and maintain burners correctly.
Woodsure, the UK's only wood fuel quality assurance scheme, has launched a Ready to Burn initiative to help homeowners look after their stoves and improve air quality. Air quality and wood fuel has become a hot topic and stove owners are being asked to think about the impact of burning poor quality firewood has on the environment. A stove is only as good as the wood it burns and so the Ready to Burn stamp of approval will reassure those who purchase firewood/briquettes with its logo that they are dry enough and immediately ready to burn.
You can learn more about Woodsure and their Ready to Burn initiative by clicking on the logos below.
We offer soft woods such as douglas fir and norwegian spruce (no pines) as well as hard woods such as ash, beech, oak, silver birch and sycamore at very competitive prices with free delivery available. Please see our fuel price list and gallery below (just click on the image) and be sure to check out our Essential Fuel Starter Kit for top value!
Fuel Gallery
Take a look at the price list and fuel option photos below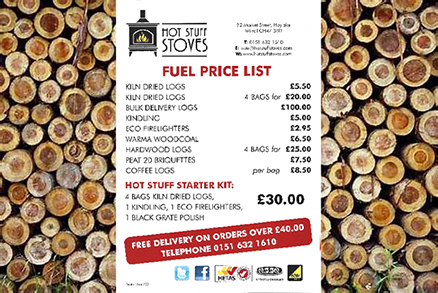 Order here